With Great Stability, Implant-Supported Dentures Look and Feel Natural
James Slaman, DDS, offers implant-supported dentures at his Albuquerque, NM, dental practice as a more secure and comfortable alternative to traditional dentures. Many patients with dentures find them bothersome because they tend to slip around and cause problems with eating and speaking. Because dental implants will integrate with your jaw, your restoration will never shift out of place. With this strong support system, your denture will look very realistic, and it will function similarly to your natural teeth.
With proper dental maintenance, implant-supported dentures could last the rest of your life.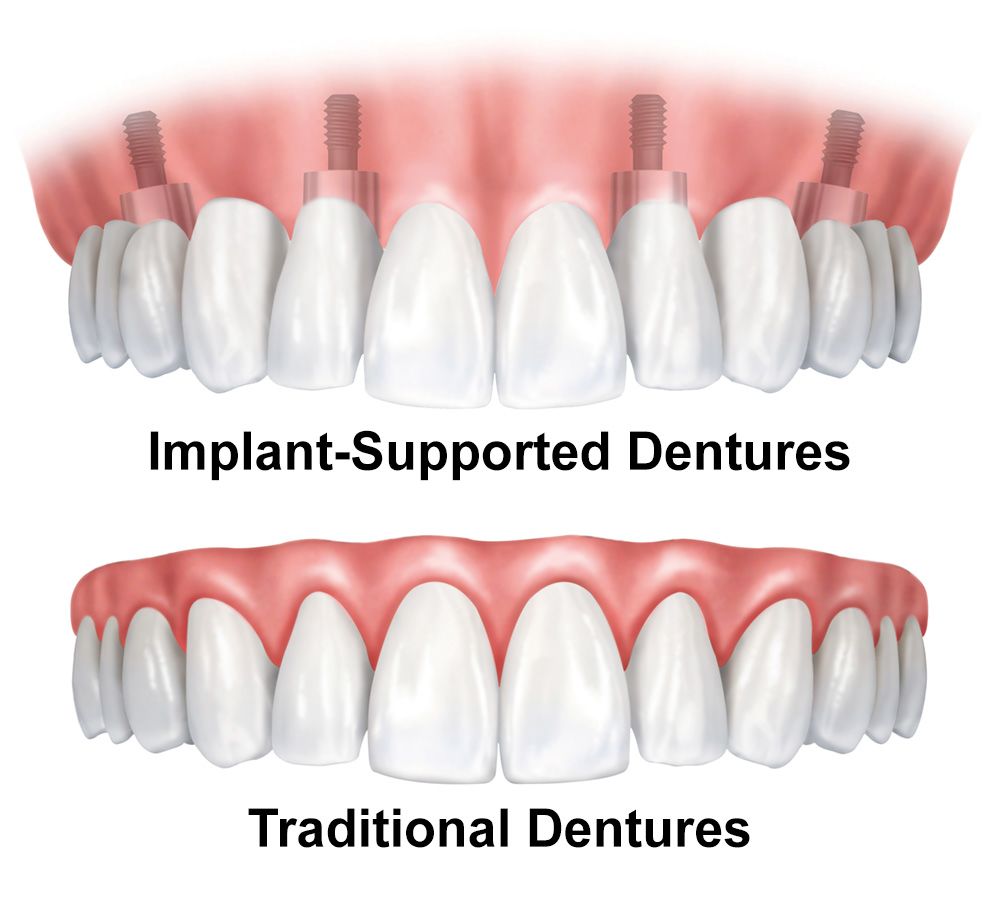 Candidates for Implant-Supported Dentures
Full dentures can be appropriate if you are missing all or most of your teeth. You may benefit from a partial denture if you have a large gap in your smile, but you still have some healthy teeth. Dr. Slaman can provide a traditional, removable denture to improve dental function and restore the normal contours of your face. However, he typically recommends implant-supported dentures because they are vastly superior.
To be a candidate for dental implants, you must have enough bone tissue to support the posts. Patients with a large number of missing teeth have likely experienced some deterioration of their jawbone. Dr. Slaman will take x-rays of your mouth with our GALILEOS ComfortPLUS cone beam scanner. The three-dimensional images will reveal areas of bone loss. Then Dr. Slaman can determine whether you may benefit from a bone graft. In most cases, this procedure can restore your ability to receive an implant-supported denture.
What to Expect During Your Treatment
The doctor typically uses oral conscious sedation to ensure your comfort. During surgery, Dr. Slaman will create several small incisions in your gums. He will then insert the small implant posts to correspond with the areas with the most bone support. The 3-D images will help him perform an incredibly precise procedure with predictable results. Some patients are candidates for the All-on-4® method. In this case, Dr. Slaman will use just four strategically placed posts. In other cases, Dr. Slaman may need to place six or more posts to ensure a stable base for your denture.
Once the implants are in place, it will usually take between four and six months for your jawbone to fully heal. You will receive a temporary removable restoration, which will allow you eat with relative ease. At the same time, the prosthetic will reshape your soft tissues so that your permanent restoration will have a more lifelike appearance. After the implants have fused with your jaw bone, Dr. Slaman will attach your permanent denture.
If you receive an All-on-4® denture, Dr. Slaman will actually affix a temporary implant-supported restoration on the same day as your surgery. After the healing period, you will come back to receive your permanent denture. Typically, Dr. Slaman will work with a specialist to provide immediate load dental implants.
The Benefits of Implant-supported Dentures vs. Traditional Restorations
Implant-supported dentures offer numerous benefits over traditional removable varieties. Your teeth will not move out of place no matter how much you speak, laugh, or smile. Implant-supported dentures can also enable you to eat a full range of foods, since you will not have to worry about damaging or dislodging your denture. Your prosthetic will also look very realistic. Unlike a removable denture, it will not have a plastic base or metal clips to connect it to your adjacent teeth. Traditional dentures can also wear down your gums and require repeated adjustments as your gums recede. In contrast, dental implants will actually promote the production of new bone tissue by simulating your natural tooth roots. Finally, with proper maintenance, implant-supported dentures could last the rest of your life.
Schedule a Consultation with Dr. Slaman
Dr. Slaman has helped many patients improve their quality of life with implant-supported dentures. To find out if you are a candidate for this treatment, contact our office today to schedule your evaluation.