Loud snoring, gasping for air while asleep, daytime fatigue, and concentration issues can all be symptoms of obstructive sleep apnea (OSA).
Our caring and highly trained dentist, James Slaman, offers an alternative to CPAP that can lessen or eliminate the effects of sleep apnea.
How can a customized oral device from our Albuquerque, NM, office help you sleep better and improve your overall quality of life?
Customized Oral Appliances
An Innovative Treatment for Sleep Apnea
After confirming you suffer from obstructive sleep apnea,
Dr. Slaman
can design a comfortable, customized oral appliance that you wear at night, just like a retainer. There is no need for cumbersome continuous positive airway pressure machines (CPAP) or surgery. Here is how it works:
Benefits of Oral Appliance Treatment
This innovative sleep disorder solution has various benefits over other kinds of obstructive sleep apnea treatments such as CPAP (continuous positive airway pressure) devices: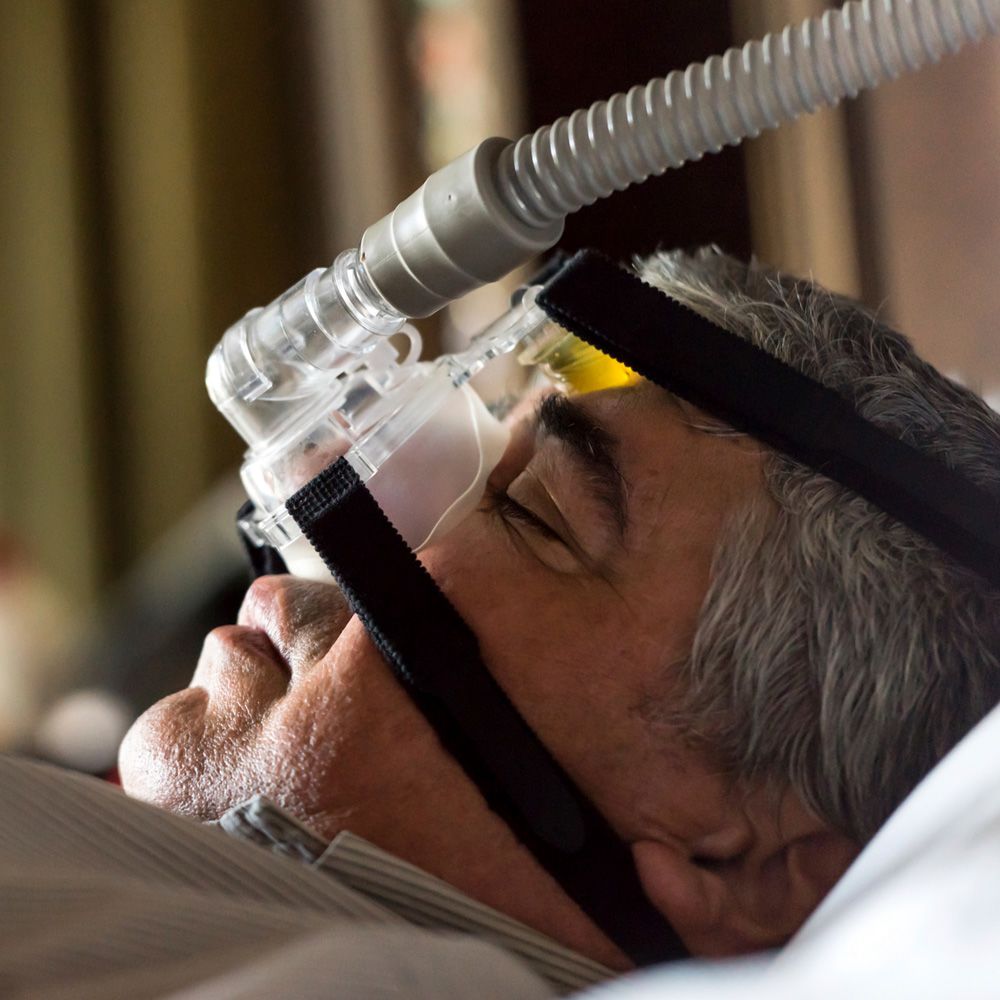 No Bulky CPAP Mask
A CPAP mask provides continuous positive airway pressure delivered through a hose that's connected to an electric fan. You wear the CPAP mask while you sleep. While effective, many patients find CPAP treatment to be noisy and uncomfortable. Plus, the machine is difficult to travel with. Meanwhile, your silent, comfortable oral appliance fits in a small, plastic case.
No Surgery
Sleep apnea surgery involves an oral surgeon removing excess tissue in the back of your throat that is blocking your upper airway. Corrective jaw surgery to move your jaw forward may also be needed. Wearing an oral device poses no surgical risks and requires no healing period.
Less Expensive
Oral device therapy for sleep apnea tends to be less expensive than CPAP machines and surgical procedures. Now that should help you fall asleep with a smile.
Does Insurance Cover Sleep Apnea Treatments?
Oral appliances to treat obstructive sleep apnea are usually covered by health insurance plans. Dr. Slaman also offers affordable financing through CareCredit® for qualifying patients so everyone can benefit from a deeper, more restful sleep regardless of their budget. His warm and educated staff will be more than happy to research and discuss your insurance options with you before treatment begins.
Sleep Apnea Diagnosis & Treatment
Tired of Being Tired?
Dr. Slaman Can Help
Dr. Slaman is a caring, highly regarded cosmetic dentist who offers advanced treatment for obstructive sleep apnea at his modern, comfortable office in Albuquerque, NM. He sees himself as a compassionate "dental coach" who isn't satisfied until his patients reach all their oral and overall health goals.
Learn more about the innovative oral appliance Dr. Slaman can use to reduce your sleep apnea symptoms and improve your health by setting up a consultation today, either online or by phone.
5-Star Google Reviews for Dr. Slaman
"I highly recommend Dr. Slaman."
After doing much research looking for a dentist, I luckily found Dr. Slaman. Numerous positive reviews about him was the reason I decided to see him. He has a modern office with the most up to date advanced dental technology. Dr. Slaman and his staff are warm, friendly and professional. I only wish I had known about Dr. James Slaman DDS, PC a long time ago. I highly recommend Dr. Slaman.
View On Google
...In my initial exam, he was concerned that I might have sleep apnea, so he ran some breathing tests to make sure I didn't have it. After all the testing and x-rays, Dr. Slaman took me into his office, showed me the results, and explained treatment options to me. And he is so "up front" about the costs and will work work with you to make the costs manageable. And ALL his staff are friendly, caring, and knowledgeable...
View On Google
Sleep apnea occurs when the soft tissues in the back of your throat relax and obstruct your upper airway during sleep. This can happen dozens of times during the night, causing you to wake up gasping for air. This airway obstruction can also cause loud snoring as air squeezes past the vibrating, relaxed muscles.
See how obstructive sleep apnea affects your breathing...
Other Causes of Sleep Apnea:
Your anatomy, age, and lifestyle can increase the risk of developing sleep apnea:
Smaller than normal upper airway
Enlarged tonsils/uvula
Being overweight or obese
Larger than average neck
Recessed chin or severe overbite
Excessive smoking or alcohol consumption
Age (40 years or older)
Improve Your Mood by Treating
Sleep Apnea at Our Albuquerque Office

How Will Dr. Slaman Create My Treatment Plan?
Dr. Slaman uses the most advanced technology at his Albuquerque, NM, dental office in order to diagnose obstructive sleep apnea and create your customized treatment plan. These simple diagnostic tools can replace overnight stays at sleep study centers or wearing uncomfortable sleep monitoring devices at home. He may also factor in lifestyle choices, weight-loss recommendations, underlying medical conditions, and your oral anatomy into his treatment plan.
​Sleep Survey
By filling out our sleep survey, you'll help Dr. Slaman to better evaluate your symptoms. You can either email it to us or bring it to your appointment.
Contact us
for more information.
Pharyngometer
This advanced ultrasound tool sends harmless sound waves into your airways to measure the flow of your breath. The test is minimally invasive and only takes about five minutes.
Diagnosis
Dr. Slaman will combine the results of your sleep survey and ultrasound exam. Then he can determine the severity of your airway obstruction and sleep apnea to devise the best treatment for you. Mild symptoms (5-15 awakenings per hour) may need different treatment than severe symptoms (30-plus awakenings per hour).
Monitoring Your Obstructive Sleep Apnea
Dr. Slaman
can also use ultrasound technology at
his practice
to measure the difference in airflow before and after you receive your oral device. This way, he can quickly monitor your progress and make adjustments to your device with no need for wearing a sleep monitor at home or spending an uncomfortable night at a sleep center. Once your oral device is properly adjusted, you may notice a dramatic difference in the way you feel after getting a few nights of deeper sleep. If your treatment plan involves weight loss or other changes, you can expect to see even more far-reaching effects.
More 5-Star Praise for Dr. Slaman
"A++ in Every Way!"
Our family of 8 has been with Dr. Slaman's office for over 7 years now and they have consistently provided exceptional dental service time and time again. Dr. Slaman is kind, personable, and professional, as is his staff. A++ in every way...
View On Google
Everyone at Dr Slaman's office is always so welcoming and professional! Our whole family comes here for all our dental needs. They are all so gentle and kind...honestly the best!!

View On Google
Dr. Slaman's Prestigious Awards and Affiliations
Dr. Slaman was awarded Albuquerque The Magazine's "Top Cosmetic Dentist" award three times. His affiliations include: